"Hidden trails to unseen cities"
Ateljéutställning "Kulturnatta" 10 okt 2014 Studio Exhibition

Klicka på bilden för förstoring. Bläddra genom att klicka vänster eller höger sida eller använd piltangenter
Click on the picture to enlarge. Browse by clicking left or right side or use arrow keys.
Sprickor Cracks triptyk kritteckningar, 80 x 114 cm
---------------------------------------------------
Klippor Cliffs
kritteckning, 63 x 86 cm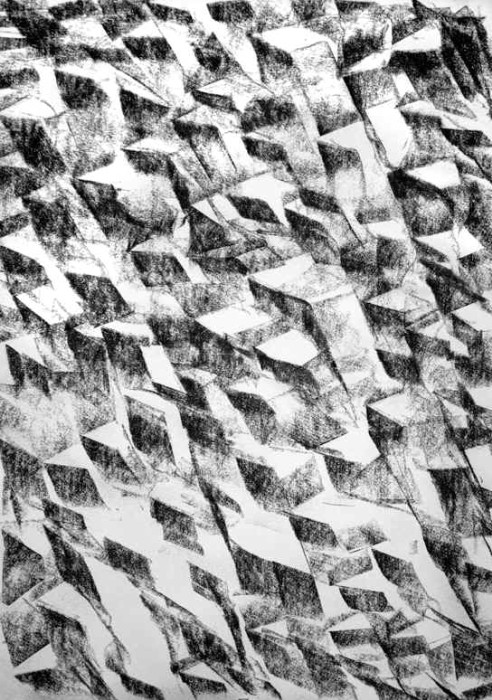 Endless steps
kritteckning, 83 x 155 cm
Endless cliff The city
kritteckning, 78 x 112 cm
Hidden trails Trails to Kailash
kritteckning, 58 x 76 cm
Broken trails Crystals Crystal city
Min konst rör sig kring två centrala teman, "Världsberget" och "Kristallberget" De har växt fram genom alla mina resor i Himalaya, till Tibet och tibetanska områden som Ladakh, Lahoul, Spiti, och Sikkim. Det är teman som ligger mig nära, som är ständigt fascinerande och som jag bearbetar. Den buddistiska stupan som symbol för världsaxeln och illustration till världsberget samlar tankarna om alltings ursprung, varat och framtiden. De senaste bilderna undersöker vägar till världsberget, en labyrintisk vandring över den oändliga klippan till det hägrande Shangri La. Triptyken "Sprickor" handlar om tillvarons instabilitet, sönderdelningen och osäkerheten om vad som ligger bakom den "vita ytan".
My art revolves around two central themes, "World Mountain" and "Crystal Mountain". They have grown through all my travels in the Himalayas, to Tibet and Tibetan areas of Ladakh, Lahoul, Spiti, and Sikkim. There are themes that are close to me, which is always fascinating, and what I process. The Buddhist stupa as a symbol of the world axis and illustration to the World Mountain is collecting the thoughts of origins, existence and the future. The latest pictures examine ways to the world mountain, a labyrinthine trek across the endless cliff to the beckoning Shangri La. Triptych "Cracks" is about the instability in existence, disruption and uncertainty about what lies behind the "white area".