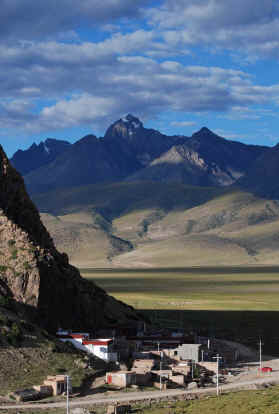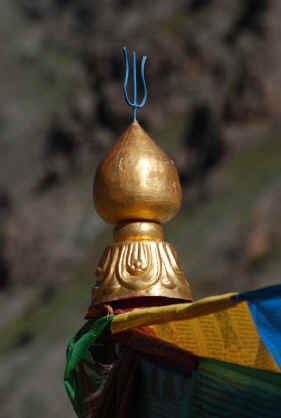 I came to Lhasa in Tibet 30/9 after a few days in Beijing. Here are mostly Chinese people everywhere in every corner that controls. Portal palace was fantastic both inside and outside. The most holy of Tibetan monastery Jorkang we walked around and it was touching to see all the pilgrims. We have seen the giant Drepung monastery outside Lhasa that once had 10,000 monks but now has only the 300. We were to Drak Yerpa Monastery which lies half inside caves high up on 4900 m. It was a beautiful landscape and interesting architecture. After spending the night there, we came back to Lhasa and went further north. We are 6 Swedes plus two Tibetans, a guide and a driver, who are traveling around in a minivan.
On the way to Namtso a beautiful lake in the north, we visited a number of monasteries and traversing through wide valleys flanked by high mountains with yaks grazing on smooth plains. The most exciting was a nunnery, Galo ani gompa, with the ancient settlements and the splendid view from the guest room.
The big lake Namtso has wide views over large Tibetan mountain ranges up beyond 7000 meters and the flattening of the landscape to the north. The colors intense, dizzying beauty landscape. The hotels were cold and quite unhealthy though.
Happy to be back in Lhasa and a comfortable hotel. The journey had come halfway. Large part of the journey southward was marked by hiking up to hermit caves where holy lamas meditated. The most handsome monastery was probably Samye, the first Buddhist monastery in Tibet and has a large circular plan as a mandala, a map of the cosmos, bordered by 1008 small stupas.
The journey continued to the beautiful turquoise lake Yamdrok-tso with magnificent views of the mountain ranges in south bordering Bhutan and Sikkim. A car ride to the old city Gyanste went through a dramatic mountain landscapes, high passes and close encounters with glaciers.
The two cities Gyanste and Shigatse both have a walled monastery area and towering castles. There I found the most interesting and best architecture and art during the trip. After a night in Lhasa we will take the train to Beijing and then fly home. More photos and stories about the trip on the website coming up in short time. There are thousands of images to edit.